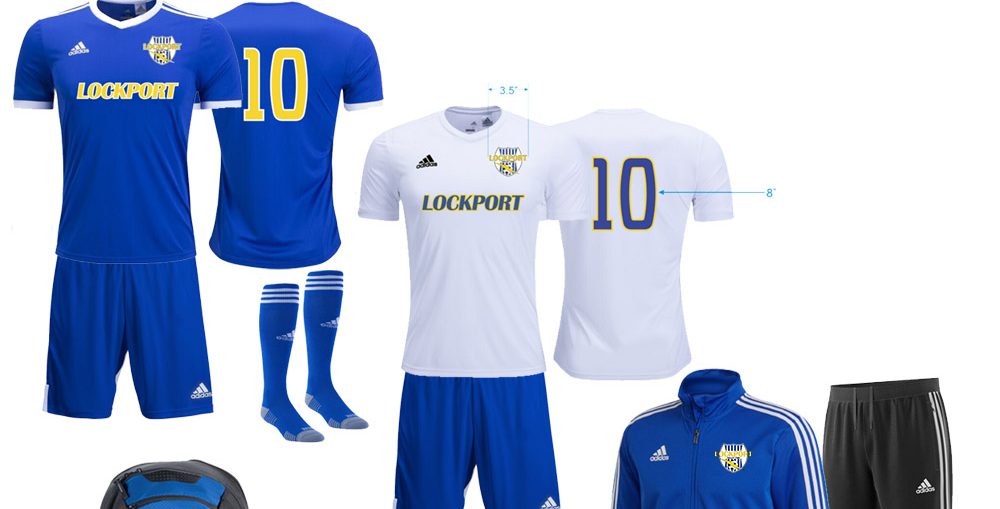 The club has decided to purchase new uniforms for the 2019/2020 season! We decided to go with Adidas blue and white jerseys, with blue shorts and blue socks. Optional training jackets, training pants, and a backpack will be available for purchase as well. Check out the attached order form and sizing chart for a preview of the uniforms and pricing information.
Please note, these uniforms will be available on a 2 year cycle which means we will be changing our uniform style again for the 22/23 season. Please check with your Coach and make sure your team will be purchasing new uniforms before placing an order. We will also need players to confirm numbers with their coaches before you order as well.
Uniform Try On Dates
We will hold uniform try on/ordering dates at the Kenan Center on Tue. Oct. 15th and Wed. Oct. 23rd from 6-8PM. We will have several jersey and shorts sizes ONLY to try on as well as a sizing chart and measuring tape to help with fitting the players if needed.
Ordering/Payment Information
Please come to the Kenan Center on one of the try on dates to place your order. We will accept cash or check, or you can log into your Lockport Soccer Club account to make your payment via credit or debit card. See link below. You can make your payment ahead of time, or on my laptop on the day of tryouts via your LSC club account. We will need an order form for every uniform order though. Please be sure to fill one out when you come to Kenan. If you are unable to make it to Kenan, and/or you already know what size jersey/shorts you will need you can log on to your LSC account, make your payment and email your order form to [email protected] or text a photo of it to 716-957-8001. We need all orders in by 5PM on Friday Oct. 25th.
If you have any questions, or concerns please contact Jessica Hughes via email at [email protected].
Uniform Order Form: https://drive.google.com/file/d/1pLFHBo70_5U8QnSw3DifkoEsioIvgp9e/view?usp=sharing
Adidas Size Chart: https://drive.google.com/file/d/1OcyE7jhn5M6GpH-1qGpWgGVAnuWE_XbS/view?usp=sharing
Lockport Soccer Club (Demosphere) Login link: https://lockportsoccerclub.demosphere-secure.com/ You are receiving this message because you are a member of the Lockport Soccer Club club