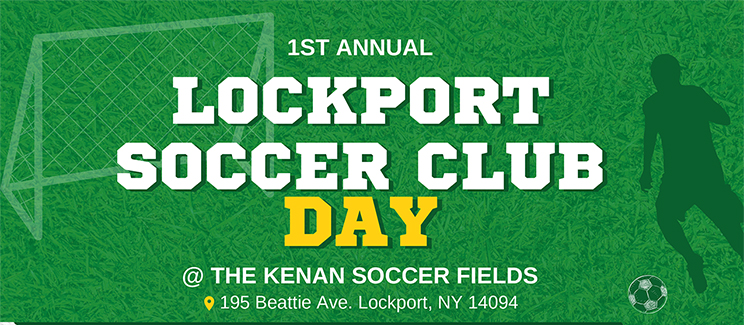 We are incredibly excited to formally announce the 1st annual Lockport Soccer Club day at the Kenan soccer fields on May 21st 2023 from 1 to 4PM! We wanted to have an event where our players, coaches, and families could spend some time having fun, not just with their own teams, but the entire club as well. Then we thought, "Hey, why not invite the entire community too!", so that's what we are doing.
Tell your friends, families, co-workers, bosses, neighbors, and anyone else you know to come join us for a soccer filled day of fun at the Kenan Center. We will have scrimmages, mini camps, challenges, prizes, food trucks, basket raffles, a cleat exchange, and special guests including FC Buffalo, and our Kenan Soccer members too!
What is a cleat exchange you ask? Well, as soccer families, we tend to have a ton of cleats that the kids grow out of so quickly. Hold on to those shoes and bring them to the event! If you are in need of a larger size you can simply trade in your old cleats for a more appropriate size or simply off load your stock pile to make some room in your closet!
Our goal is to grow our soccer club, strengthen our relationship with the Kenan House Soccer league, and give our current members a chance to get to know one another while having a ton of fun at the same time. What could be better than that!
We can't wait to see you there and make sure to tell all your friends to stop on by too!
**If you are interested in volunteering to assist at the event, please email Mark Czekaj at [email protected] or Christine Czekaj at [email protected] for more information.