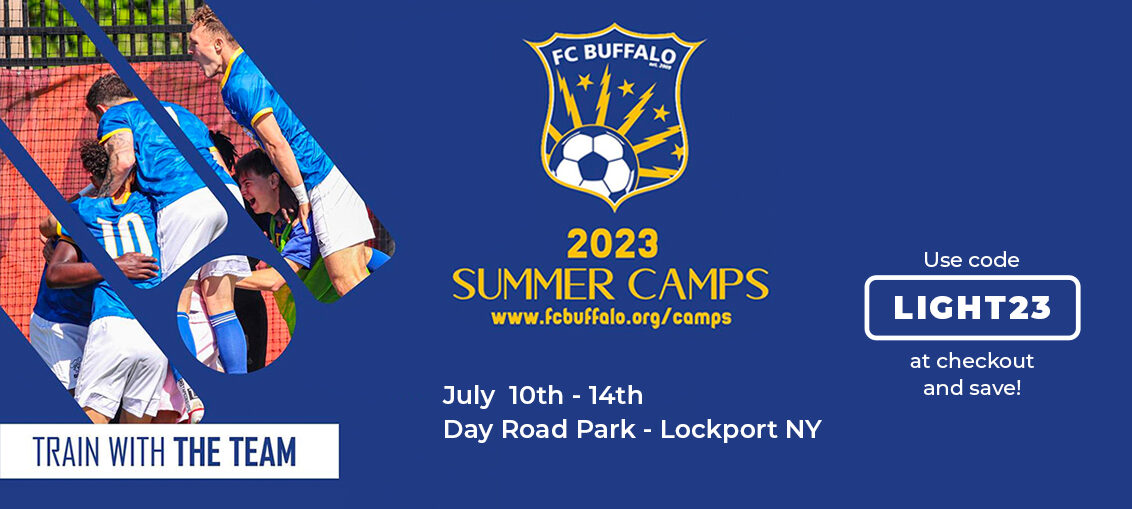 We are excited to announce that Lockport Soccer Club has partnered with FC Buffalo and Algonquin Sports for Kids to host an amazing week of soccer camp this Summer here in Lockport at the Day Road Park Fields.
The objective of the partnership is to build a collaborative, unified environment that services the needs of our soccer community as a whole by creating sustainable and equitable access for all to opportunities for development, growth and introduction to the game, that lead to lifelong learning and love.
This serves every age and level of player. The camps will be led by the FC Buffalo and AS4Kids Staff. The coaching staff is composed of current and former FC Buffalo men's and women's first team players.
As part of the partnership, members of the Lockport Soccer Club family are entitled to a discounted price of $125 for the camp at July 10-14 Day Road Park when they enter the code LIGHT23 at checkout during the registration process.
We are excited about what this brings to our local community and the soccer community as a whole for WNY. It is a great opportunity for our players to grow, learn and fall more in love with the Beautiful Game.
Details:
Cost – $125 for Lockport Soccer Club members ($185 for general public)
M-F 9a-12p, July 10-14
Day Road Park
Boys and Girls Ages 6-16yrs old
Includes – 2023 Camp T-Shirt, and One (1) 2023 Match Ticket
Register Below:
MAKE SURE YOU USE COUPON CODE LIGHT23 AT CHECKOUT!!!!!! (and feel free to pass that code on to whoever wants to sign up)
https://algonquinsports.leagueapps.com/camps/3911233-fc-buffalo–as4kids-soccer-camps?fbclid=IwAR2vkOF0RVHFLSjgZn2s5SFYX4idQImP7SstHO1XlooKx6NV1LjkA789338